When Roses are a Mystery – Meet "Darlow's Enigma"
by Terri Clark
Sometimes it takes a season or two, perhaps even a decade, for a "new" rose on the block to take hold in the general rosarian consciousness. But then there are those popular new selections that herald a quiet riot among the "in" crowd. Such a cavalcade of interest has been spreading all over the internet and the name of the rose in question is "Darlow's Enigma".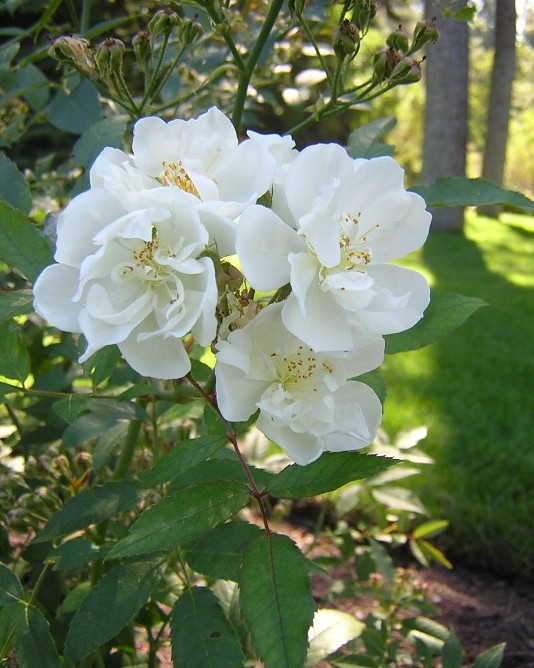 Never heard of it before? You are not alone. I am notorious for being the last to know almost anything and even me finding an "Enigma" bush was a chance discovery at a fabulous perennial nursery located in Langley, BC called Free Spirit and operated by the dynamic Dutch duo of Lambert and Marjanne Vrijmoed.
Free Spirit only carries a very limited supply of roses, actually only two varieties are on its list this season, so I was intrigued to learn more about "Enigma" having spied its healthy countenance of glossy green leaves and staunch upright habit.
Lambert could not say enough good things about this rose; an almost constant bloomer from June to late fall, its profuse clusters of single white flowers are scented, so fragrant in fact that its smell can permeate an entire garden in the evening. And here's the clincher - it thrives in low-light situations as well.
"Darlow's Enigma" was a chance discovery, probably a seedling, said to be found by Mark Darlow in the 1990s. It is thought that it is related to Rosa moschata due to its vigor and winter hardiness coupled with its prolific bloom. It is classified as a Hybrid Musk and a climber too though most of my on-line information finds gardeners keeping it shaped at 6 to 8 feet where it does a supreme job of wowing all onlookers.
Whatever her provenance, the mysterious "Darlow's Enigma" teaches us a valuable lesson, one learned over and over as I skip through life. There are few among us who can improve on Mother Nature when it comes to creating something so beautiful to behold.
By the way, I now have a "Darlow's Enigma" of my own in pride of place where a rose lost to the cruel winter past once flourished.